Despite the pandemic, 2020 has been an incredible year. This is especially true in the Upland Metaverse. It was a year filled with deals, auctions, competitions, new city and new feature releases, and of course announcements of new collections.
Two of the big events were the opening of two new cities – Fresno, California, and Manhattan, New York.
Fresno which opened on 20th October is a beginner-friendly or a starter city in the sense that the properties are cheaper. Not only was it cheaper, but Fresno is also made up of a large proportion of FSA (Fair Start Act) labeled properties. FSA properties can only be purchased by new players with a net-worth below 100,000 UPX. The city opened with much fanfare and within 24 hours of opening, over 6,600 properties were minted on the EOS blockchain!
In the same month, 2 legendary properties were auctioned off in San Francisco: Pier 39 and The Ferry Building. Pier 39 sold for 6,207,512 UPX and The Ferry Building for 8,321,050 UPX.
Manhattan on the other hand is an expensive city but with the higher price tag comes a higher return in earnings. Manhattan properties were opened in 'batches' or 'bubbles', the first being in the Lower East Side on 20th August.
2020 was an explosive year at Uplandme and it has helped many players, both early adopters and those who recently started building their net-worth in a relatively short time. Obviously, how one plays the game makes a great deal of difference in the speed of increase in one's net worth.
Before we look at some of these individuals who did well, let's look at some game statistics.
Here's a screenshot of the first post on statistics released by the game developer on the first week of January 2021.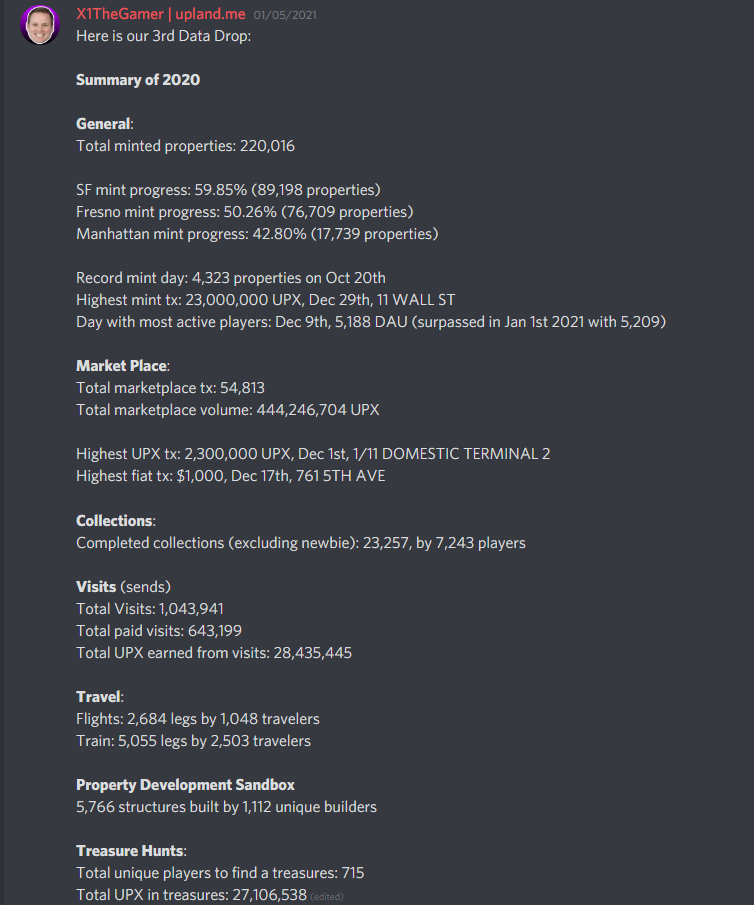 One thing's for sure, property sales are picking up, especially those in Manhattan, and in Fresno. For New York, there are still 13 Collections that have yet to be revealed. The collection speculations lead to the excitement that causes FOMO in many players, including this author.
Have the right strategy and you can increase your net-worth in a relatively short time. In fact, one of the individuals in the top 10 list wasn't even on the list before December 2020!
Top 5
The Upland game is still in open beta and 2020 is the first full year that the game ran. Based on data the author is able to collect, the net worth of the top 10 list is calculated from the total property minting value held. The range of total property valued held for the top 100 players ranged from around 4,700,000 UPX to a little over 80,000,000 UPX.
The combined net worth of the 10 richest is 390 Million UPX (which is approximately equivalent to a value of USD 400,000.00). This is close to 8% of the total Upland Metaverse net worth. This same 10 individual holds approximately 3.7% of the total Upland Metaverse's total existing properties of around 381,000 total properties. These data were pulled from UPX.World, a fan site.
Upland's RICHEST: DIZZYDSKI
The richest Uplander in 2020 is DIZZYDSKI with a total property net-worth of slightly over 80,160,000 UPX. Almost 90% of DIZZYDZKI's properties are in NYC and with almost negligible exposure to Fresno city. He has a total of 3,239 properties at a total area of 140,330 UP². The highest valued property had a minting price of 4.76M. He started with his first property at 115 Staples Ave, San Francisco, for 4,200 UPX on 21 Nov 2019. There was no looking back after that.
Upland's 2nd Richest: NOICE2MEETYA
NOICE2MEETYA started in September and obtained his Upland Citizenship on September 24, 2020. He now has a total property net-worth of 51,780,000 UPX consisting of 824 properties and a total area of 98,153 UP². Firmly rooted in San Francisco, his favorite property is 301 Van Ness Ave, and his favorite collection being the rare Financial District Collection. His properties in San Francisco make up almost 90% of his total property portfolio.
Upland's 3rd Richest: KENT
Coming in at #3, with a total net worth of 37,890,000 is KENT. The total land area he owned is 169,370 UP² from a total of 1353 properties. KENT is also mainly focused on properties in San Francisco but amongst the 5 richest, he holds the most properties in Fresno, making up slightly over 20% of the portfolio total. KENT is a veteran and one of the pioneers having been invited to join the closed beta on 7 July 2019. The first Upland property he bought was 1930 Quintara Street was the first property he bought.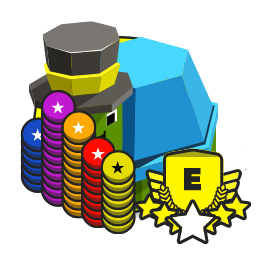 Upland's 4th Richest: THANKMELATER
THANKMELATER started in mid-January 2020 and less than a month later, on February 10 became a citizen of Upland. At #4, his net-worth is at 37,180,000 with 1961 properties. Amongst the top 5 richest list, THANKMELATER has the most land area at 255,796 UP². An interesting piece of information that not many are aware of is that he owns the most #1 addresses in San Francisco and probably the Upland Metaverse.
Upland's 5th Richest: LANDLOARD
Rounding up the top 5 with a net worth of 34,400,000 UPX, LANDLOARD has only 212 properties making him the top in terms of highest average value per property and also the highest land area per property.
Top 6th – 10th
When we move to the remainder of this top 10 list, the figures look quite different in a couple of categories.
For one, the person taking the top spot for highest total land area and highest total properties have been taken over by the #6 richest in the list – TEEEM, with a total land area of 402,386 UP² and 4,502 properties. He has a net worth of 32,270,000 UPX.
Ranked at #7 is MJC3337 with 899 total properties, 125,352 UP² total land area, and a net-worth of 30,760,000 UPX.
At #8 is a player who was not even on the top 30 list before December 2020. Winning the auction for 11 Wall Street with a bid of 23,000,000 UPX propelled RYANMIANO straight into the top 10 richest list with a total net worth of 29,940,000 UPX. Incidentally, he now holds the record for the highest valued property in the Uplandme Metaverse. He owns a total of 130 properties with a total land area of 8,907 UP². Not surprisingly, he now holds the title to the highest value per property and highest land area per property.
Making it on the list at #9 is NICHIREN with 628 total properties, a total land area of 66,752 UP², and a net-worth of 28,590,807 UPX.
And closing the top 10 list at #10 is WICKEDBOMBER with a net-worth of 26,190,000 UPX and a total land area of 53,779 from 398 properties.
SUMMARY
In looking at the land holdings from these top 10 richest, no specific patterns were noticeable. The only noticeable pattern based on cities of investment was that the top 5 richest focused mainly on properties in either San Francisco or New York City. This makes sense as higher valued properties would offer you higher earnings and returns.
Here's a summary of Upland's top 10 richest and their net worth:
#1 DIZZYDZKI (80,162,351 UPX; ~USD80k)
#2 NOICE2MEETYA (51,784,557 UPX; ~USD51k)
#3 KENT (37,897,641 UPX; ~USD37k)
#4 THANKMELATER (37,180,839 UPX; ~37k)
#5 LANDLOARD (34,447,482 UPX; 34k)
#6 TEEEM (32,273,670 UPX; ~USD32k)
#7 MJC3337 (30,769,915 UPX; ~USD30k)
#8 RYANMIANO (29,947,409 UPX: ~USD29k)
#9 NICHIREN (28,590,807 UPX; ~USD28k)
#10 WICKEDBOMBER (26,192,760 UPX; ~USD26k)
If the 2020 game development and player engagement is any indication of what's in store for the game, then we are in for a thrilling ride. The Upland game has been gaining attention and been consistently making ATHs (All-Time High) in DAUs (Daily Active Users). With more virtual property hunters joining this property trading game, coupled with an exciting 2021 Roadmap, the richest list above will look very different end of this year and in the coming years.
This issue is tied in with a Limited Edition release of 2020 Upland's Richest Double image NFT with a maximum of 20 mints. You can check it out at AtomicHub and grab one before they're all gone.